Wool and latex pillows combine the best properties of both materials.
Revolana's wool and latex pillows contain a homogeneous blend of small wool beads and natural latex flakes. The mixture contains the same weight of wool and latex. However, as the wool is more voluminous for the same weight, the pillow seems to contain more wool than latex. The amount of fill is adjustable using a zipper on the pillow.
The envelope of the pillows is made in a top-of-the-range percale fabric, GOTS certified, 100% organic cotton, with 94 threads/cm². This fabric ensures the pillow its good performance and durability.
Benefits of wool in the pillow
No sweating or heating up
Wool is a fiber that breathes. It is able to absorb up to 30% of its weight in moisture and to exchange it with the ambient air. It thus regulates the humidity of the head and prevents overheating. The wool allows a healthy sleep without perspiration. Even in summer, the wool pillow stays perfectly comfortable. This will be especially welcome for children and people who tend to sweat more.
A healthy fiber
Wool is a healthy natural fiber that does not create a static charge. Contrary to popular belief, wool is naturally anti-dust mite. As it breathes, it remains a dry environment unfavorable to their development. In addition, it is slightly abrasive. The natural movement of the wool fibers between them shears the mites. Allergy sufferers can therefore use a wool and latex pillow without problem.
Wool beads give more volume
Wool beads give volume and remain independent of each other. They are formed from carded wool using a mechanical process that crosses the fibers in several directions. Wool beads mix very well with latex flakes and do not form packets. They are easy to spread in the pillow.
Untreated local wool
We use wool from mid-mountain sheep raised outdoors in the south of Serbia. Our wool is untreated. It is washed very carefully and ecologically with non-calcareous water locally. Our wool is completely clean with neutral smell.
The benefits of latex
When used in pillows, wool has only one drawback: under the weight of the head, it tends to compress with time. Natural latex is an elastic substance with very high resilience. If it compresses under the weight of the head, it always returns to its original shape. Combined with wool, latex prevents it from settling and gives the pillow more spring and fluffiness. Latex is also hypoallergenic and bacteriostatic.
GOLS certified 100% natural latex
Our latex is certified GOLS (Global Organic Latex Standard) which is the standard of organic latex, as GOTS is the standard of the organic textile. This latex is 100% natural, made exclusively from rubber tree grown in India or Sri Lanka.
Adjustable pillows
All Revolana pillows feature an Oeko-Tex-certified YKK zipper that opens the pillow to access the wool and latex blend. It is thus possible to easily adjust the amount of mixture in the pillow. We propose refills of mixture if it is necessary to add some.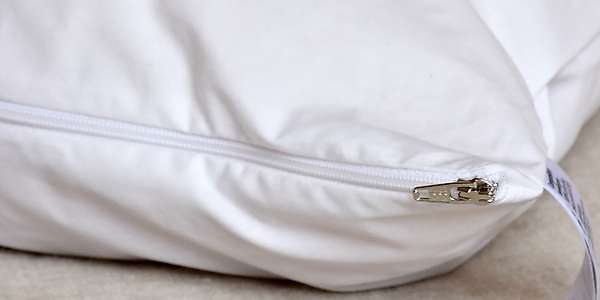 The pillow case can be machine washed once emptied from its contents. When whashing the pillow case it is a good opportunity to put the wool-latex blend outdoors. Wool regenerate at the contact of fresh air and sun. When putting the content back into the pillow, you can work on the wool quickly to give some volume.
3 comforts so your sure to find yours
Revolana lineup offers 3 pillows that simply differ in the amount of wool-latex blend they contain. If you were to hesitate between any of the models, know that it is always possible to turn a firm pillow into a softer one by simply removing a little mixture. Conversely, it is possible to add the mixture in a flat or soft pillow to make it thicker and firmer.

Belan model: flat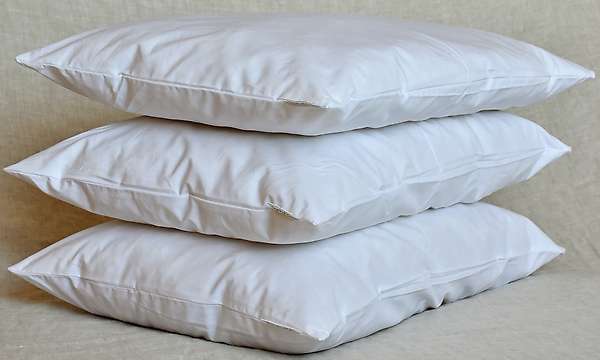 A flat, little filled pillow, that will be particularly suitable for those who sleep on their stomachs and for children from 18 months. For young children, it will be possible to remove some filling to make the pillow even more flat and then put it back when the child grows up.
Available in one size 60x40cm.
Ozren model: fluffy
A standard pillow that will suit the majority of people. It's a well-balanced pillow, easy to adjust to a flatter or firmer pillow.
Available in sizes 60x40cm, 60x60cm, 70x50cm and 80x40cm.
Orjen model: firm
Orjen is filled more for firmer comfort. It is a higher pillow that will be well suited for those who sleep on the side and have strong shoulders. As for other pillows, it is always possible to adjust it to more softness by removing some of the filling.
Available in sizes 60x40cm, 60x60cm, 70x50cm and 80x40cm.
The 100% organic cotton pillow protector
We offer a 100% organic cotton under pillow case, that is highly recommended with any pillow. This pillow protector prevents stains and make comfort more uniform. It is made from a soft, thick and absorbent knit fabric. That knitted fabric is naturally extensible and perfectly fit the shape of the pillow.