The flax seed heat packs relieve pain and offer extraordinary comfort of use.
A plant with a thousand virtues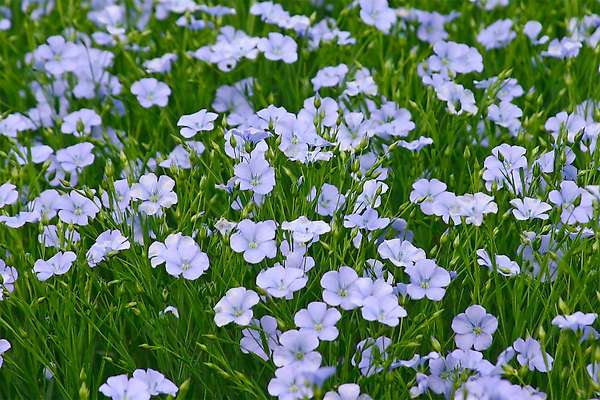 Revolana organic flaxseed heat packs all include a machine washable linen cover for easy maintenance. Flaxseeds are derived from the cultivated flax plant. It is one of the first species cultivated by men whose traces date back tens of thousands of years.
Flaxseeds are oleaginous, that is, they contain oil. In the heat packs, it is that oil contained in the seeds that accumulates heat or cold. Flaxseed oil is known for its relaxing, soothing and analgesic properties. Unlike heat packs in other materials, flaxseed heat packs have a double effect: heat and the properties of flaxseed oil. Flaxseed heat packs are often used by physiotherapists to help with healing.
Since flax seeds are small, heat packs are very malleable and soft. They always perfectly follow the area on which they are applied.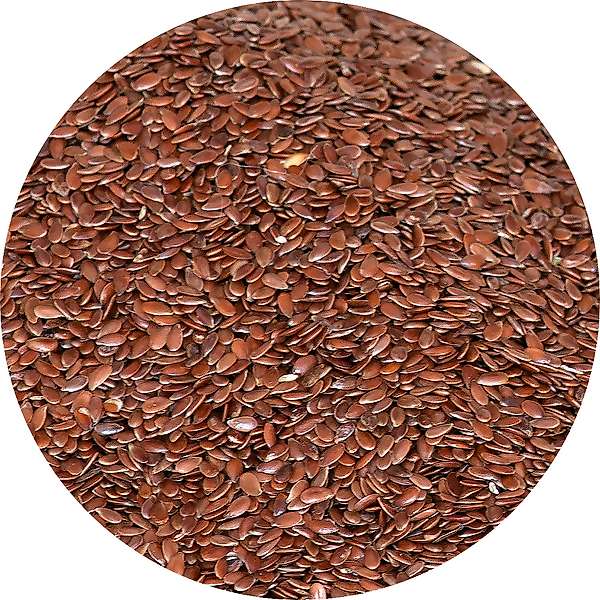 Heated or cooled usage
To relieve pain
Flaxseed heat packs are used when in pain.
Heated (thermotherapy)
Flax seeds heat packs soothe and relieve pain: rheumatism, lumbago, osteoarthritis, neck pain, joint pain, abdominal pain, colds, bronchitis, hands or cold feet, relaxation, help with falling asleep. It will also be effective in the case of painful periods. It is possible to add to the heat pack a few drops of essential oils to increase its effect. There are many sources of information on aromatherapy and you can always ask for advice in an organic store, pharmacy or to a naturopath.
Cooling (cryotherapy)
Heat packs can be cooled more or less depending of the wanted effect using the refrigerator or freezer. It offers a non-aggressive adaptable cooling. It can be used against all inflammatory problems: tendinitis, sprains, bruises or to relieve migraines.
For comfort
The heat of flax seeds heat packs is very pleasant, especially for heating the bed or warming up oneself in winter. Children really appreciate their warmth, without any risk for them, unlike hot water bottles. The gentle heat help them calm down, reassure them and allow them to sleep more easily. For those who have trouble falling asleep because of icy feet, the heat packs will be a great help to restore the circulation and heat extremities.
In summer, with a simple passage in the refrigerator, flaxseed heat packs will be very useful for cooling oneself without getting too cold.
Revolana range
We offer a range of 4 organic flaxseed heat packs in 4 sizes with great flexibility of use. Each heat pack is made of organic certified flaxseeds contained in a percale fabric cover, 100% organic cotton, certified GOTS. It also offers a removable and machine washable comfort cover made of 100% pure linen, very soft and pleasant.
Last addition to the range, the back belt is our most sophisticated heat pack. It is an organic cotton belt quilted with wool that features a removable organic flax seed heat pack. The belt has elastics that ensures excellent hold with or without the heat pack.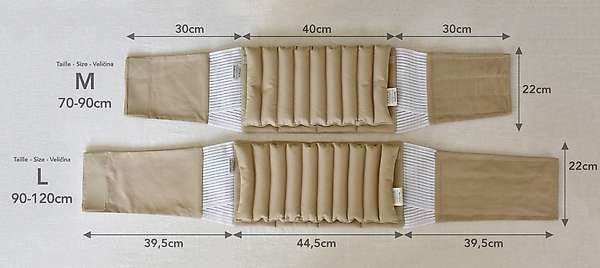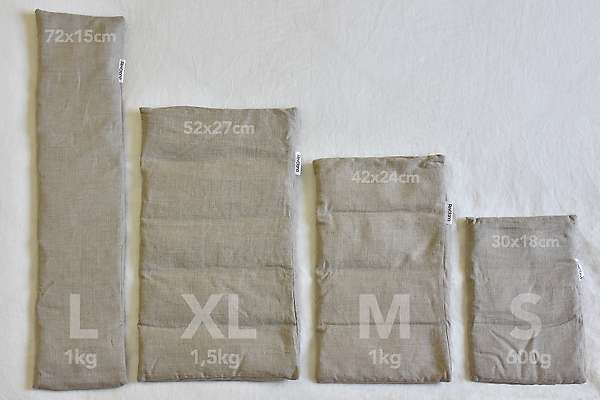 | Model name | Size | Dimensions | Weight | Compartments | Description |
| --- | --- | --- | --- | --- | --- |
| Neck pack | L | 72x15cm | 1kg | 5 | Elongated format particularly suitable for heating the neck and shoulders. |
| Extra large | XL | 52x27cm | 1,5kg | 5 | The largest of our heat packs. It accumulates a large amount of heat and allows to heat large areas. It is suitable for heating the back, feet, hands or shoulders. |
| Universal | M | 42x24cm | 1kg | 4 | Heat pack that offers a format for all uses. It is the most suitable model for children. |
| Small | S | 30x15cm | 0,6kg | 3 | Particularly recommended for heating organs (liver, pancreas, gallbladder, bronchi, etc …) and joints. Its size and weight allow it to be used by all. |
| Back belt and flax seeds heat pack M | M | 70-90cmx22cm | 0,9kg | 9 | Designed for back and lumbar, it is a heat pack that can be used even while being active. |
| Back belt and flax seeds heat pack L | L | 90-120cmx22cm | 1kg | 10 | Designed for back and lumbar, it is a heat pack that can be used even while being active. |
Traditional electric oven heating or microwaves
Revolana heat packs can be heated with their linen cover directly in the electric oven at 80°C ~ 90°C for 10 minutes or more if necessary. In the microwave, they can be heated approximately 1mn30 at 750W. With experience, you can adjust the time to get what you want. If the heat pack is folded in the oven because of its size, it should be folded on the other side during heating for good heat distribution.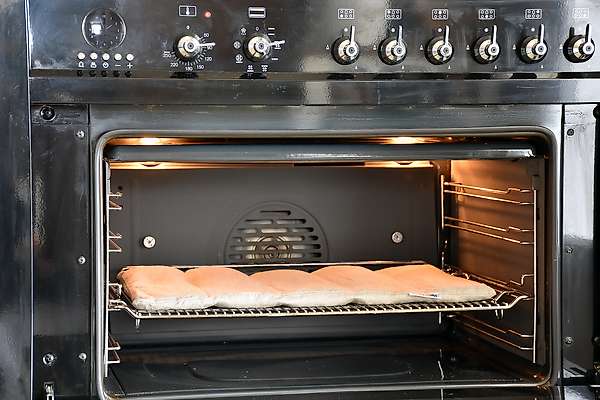 Cooling in the fridge or freezer
For cooling, it is necessary to put the heat pack in a waterproof bag so as not to risk to wet it. The cooling time is to be determined according to the coldness one wants to obtain: 1h in the freezer up to 4h in the refrigerator depending on the desired temperature.