Pure new wool duvets let the body breathe, temperature remains stable, moisture is evacuated naturally, comfort is incomparable.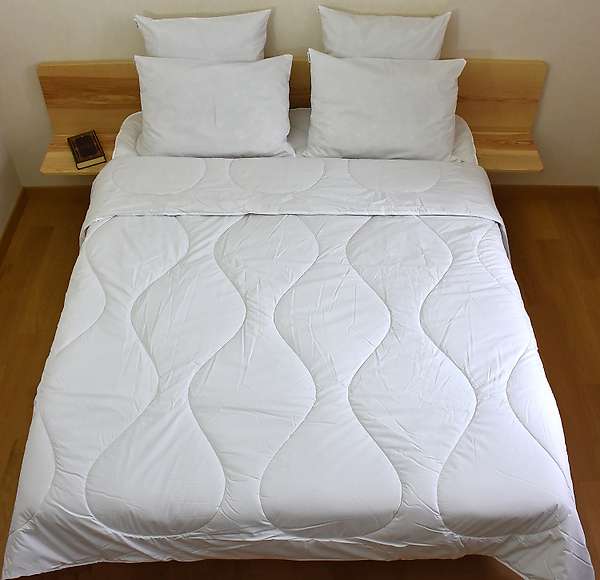 A micro-climate for your comfort
Wool is breathable. It regulates moisture as well as heat by letting the skin breathe. The pure wool duvet creates an ideal micro-climate for the body. That's why we feel good about wool. Unlike other non-breathable materials, the woolen duvet is comfortable over a wider temperature range.
High-end insulation
Wool is insulating. It is the air trapped in the wool fibers that ensures this insulation. The more curly and voluminous is the wool, the more air it accumulates that keeps warmth. We have selected sheep wool from mid-mountain that is particularly voluminous. The work on the fluffy woolen waddings that make up the quilt is also particularly important. We work with 2 successive carders to keep only the long fibers and have an exceptional quality of woolen waddings.
Well wrapped wool
The Revolana duvet cover is made of high quality percale fabric, 100% organic cotton, with 94 threads/cm². This fabric ensures the quilts durability and confort. With its tight weave, it also ensures that the wool stays in the duvet. Wool fibers can not cross the weave of the fabric. Finally, although it has a large number of threads, the percale fabric we chose remains light with only 145g/m². This allows the quilt to be lighter while offering the same warmth.
3 duvets for 3 levels of heat
The Revolana range offers 3 quilts with 3 grammages of wool.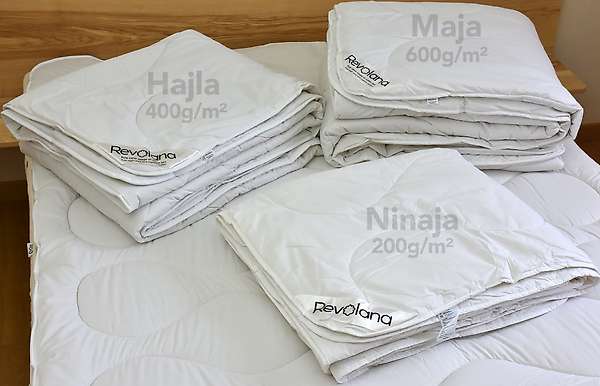 Ninaja light: summer and heated room
Ninaja is a light duvet with 200g/m² of wool. It is pleasant to use for a temperature in the room superior to 21 ~ 22°C, that is to say in summer or in well heated rooms in apartments or with a heating system with strong inertia like a floor heating.

Hajla all-seasons: temperate rooms
Hajla is an intermediate quilt with 400g/m² of wool. It is perfect for a temperature range from 16 to 21°C, most commonly found in well insulated house or apartment rooms with minimal heating.
Maja winter: unheated rooms or chilly people
Maja is our warmest quilt with 600g/m² of wool. It will be appreciated in unheated rooms or by people sleeping with the window of their bedroom opened. It can also be perfect for the chilly people even on higher temperature ranges.
A personal choice
The indications of comfort for each quilt are indicative. Everyone can adapt these tips for themselves. Some people are getting too hot quickly and prefer a light duvet even in winter. Others are often too cold and prefer a thicker and warmer duvet. The advantage of wool duvets is to regulate moisture and heat. They do not overheat the sleeper. They therefore remain very pleasant over a wide range of temperatures.
About the quilts that assemble together
It is possible to find duvets that can be joined by 2 to form a thicker duvet. We do not offer this system. A quilt includes layers of wool taken in between 2 layers of fabric. By joining 2 quilts, this makes 4 layers of fabric. If we add the duvet cover we arrive at 6 layers of fabric. That's a lot of fabric that weighs without bringing heat. The lightness of the quilt, which is what one likes about it, is lost. If a duvet is not warm enough during a certain period of the year, it is better to add a wool blanket. On a 2-persons bed, the advantage of this solution is also to be able to put the blanket on one side if only one person is more chilly than the other.
A high quality artisanal production
All Revolana duvets are made in our workshop in Belgrade. Wool is selected and comes exclusively from sheep from Southern Serbia. Both washing and carding are carried out by partner companies with whom we have established bonds of trust. We have total control of the product up to which sewing thread we use.